Top 5 Mobile Notary Mistakes
What are the top 5 mobile notary mistakes. No one is perfect, but being thorough and avoiding these mistakes should help you be a more efficient and productive mobile notary.
We will note, that as remote online signings become more prevalent, these mistakes will apply to them as well. And a smart notary moving forward will realize that most businesses will need both mobile, as well as online notaries.
Here are the Top 5 Mobile Notary Mistakes
5. OVERBOOKING
Overbooking is a problem that gets a lot of notaries in trouble. For most of us, we hate to turn down any work.
Problem is, you don't want to stretch yourself too thin.
If you have a closing at 3pm and you get a call for a signing at 4pm, tell that scheduler that you have one at 3pm and you would not be able to make that time. Tell them when you are available, because they might be able to move the time to fit your schedule, especially if you are someone who has set themselves apart from the pack.
Overbooking yourself can kill the amount of work you get, because it's just going to make you late and seem unreliable. Remember to always give yourself time to print, drive, sign, and drive again. I always give myself a little extra time in between signings to account for traffic, late docs, and the signers that have to read every page. Be smart with your scheduling and avoid this simplest of notary mistakes.
Overbooking is not just a thing for notaries, but for many businesses. Note, that while it may be appealing to some businesses in certain sectors, the notary public is not one of those. A notary's reputation is built on actions and words, so putting yourself in a situation where you may have to go back on your word is a really bad idea.
4. NOT BEING PROFESSIONAL
A lot of notaries get put onto the DO-NOT-USE lists for being unprofessional.
Different things can fall under this. One biggie is not dressing professionally in business attire. Of the notary mistakes we've seen, notaries have shown up in shorts and flip-flops to a closing.
This is definitely a good way to be banned from being used through that company you're doing a closing for. Now, I'm not saying you should be in a suit or tux, but you should be presenting yourself in a professional manner. Make sure you're presentable and showing good hygiene.
Another part of this is the language and conversations that are made before, during, or after a signing. We have had notaries asked not to be used again because they are using vulgar or inappropriate language in at or around the table. You never know who is listening and might be offended by what you are saying.
Those are the big 2 for this matter but I could go on and on with examples of unprofessionalism. Basically, present yourself in a professional manner and act accordingly and you will do AWESOME!
3. GIVING OPINIONS OR ADVICE AT A SIGNING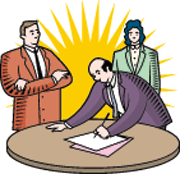 This is one of the biggest notary mistakes and of the easiest ways to be banned from doing signings for a company. Regardless of your knowledge or experience in the field, you should never give your opinion or advice on a signing.
This has ruined countless signings.
We don't know what situation the signer is in, and what might be a bad deal to you, might be the best deal for them. It is not our place to say it is or isn't good deal. When questions arise such as that, respectfully inform the signer that you are not allowed to speak on the matter. If they have questions regarding terms get their Loan Officer on the phone.
2. NOT COMMUNICATING
There are quite a few things that fall under this. Not communicating can cause problems for a signing all the way around and is one of the common notary mistakes.
Not confirming with the signer. (Obviously this does not count when you're asked not to confirm) Not confirming can cause issues such as the signer not being available for the time. This may be because they never had the signing confirmed and now the signing doesn't happen, and now it doesn't sign on time to fund or make the drop. Then, you have it where the notary does confirm, but the signer wants to move the time. The notary agrees to the new time, but never lets his client know of the changes. This is a problem, because if the time is changed to an earlier time, docs might not be ready. If it changes later and your client doesn't know, can really hurt your client as they might be expecting the docs to be faxed back by a certain time to make funding on time. Or simply they need it to sign before a particular time so that way it makes the pickup on time.
Another mistake is when there are question or issues at the table, some notaries take it upon themselves to assume what to do. Every company does things differently. Example would be correcting docs. Not every lender or title company has the same procedures for correcting docs at the table. Not communicating with them and assuming what should be done could cause the signed documents not to be accepted. Basically as a notary, you should be communicating any changes, issues, or questions to their clients. This helps avoid further issues. If you communicate with your client and something does go wrong and you followed their procedures than the mistake is on their end. Remember with anything communication is key.
The List Topper of Mobile Notary Mistakes
1. NOT READING INSTRUCTIONS
Not reading instructions tops the list of notary mistakes.
This is huge.
Countless signings went wrong because of the notary not reading instructions. Some notaries get a lot of their signing through the same company, and they get in a routine where they think each one is the same.
That's where the problems arise. Some files might have a particular instruction, whether it's a certain way to sign or as simple as the file requiring fax backs. Every Lender and Title company does things differently, and is not always the same procedure for every signing.
Instructions are put in place for a reason. So if you are accepting assignments and not reading the instructions you're setting yourself up to fail as a mobile notary. If something is missed or not signed correctly your client is going to ask you if you read the instructions. If not, you can bet that company will not be calling you for work again. It's very simple, READ YOUR INSTRUCTIONS.
With all these mobile notary mistakes listed, do your best to avoid these, as all of them are easy to avoid. Once again mistakes happen and no one is perfect, but keep the above mentioned in mind and you should have minimal mistakes. Good luck and Happy Signings.
Get Any Document Notarized Right Now! Let's Start!
Go with the Industry Leaders for over 15 years. Mobile Notaries, Online, Remote, Sunshine Gets the Job Done Right…