6 Ways to Make More Money as a Notary
Thanks for visiting to find out five ways you can make more money as a notary. We deal with hundreds of notaries a week, and almost all of them are looking to expand their business. So,
This List is a Great Way To Expand Both Your Business and Your Services

6. Look Into Doing Both Mobile and Remote/Online Signings
Yes, the world is changing, but the more the world changes, the more it stays the same.
Here is the cold hard fact. Businesses are going to need Mobile and Remote Notaries. So being ready and able to do both is a really good idea.
Remember, this is a client decided way to do business. You cannot foresee your needs. Clients might:
Feel more secure.
They might have a client of their own who requests it.
Remote might work for one of their pipelines, but not another.
They might just not want to change. (We know a major bank that still uses Internet Explorer) (We're shocked the CEO doesn't come to work in a horse and buggy)
Any way you slice it. Your clients are going to need both, so you should probably do both.
5. Remind Your Current Clients of Your Availability
Some might think this would be bothersome to the ones you're sending this to, but I feel this is a good way to keep your name in the minds of those hiring.
I have notaries that send me an email once a week, if not more, just letting me know they are available for signings. Some will even call me asking if I have anything in their area. By them doing this I know that they want to work and when I do need a notary near them, their name is in my head and I'm going to most likely call them first.
In this business, it's all about people knowing your name and the areas you cover.
4. Cold Calling Potential Clients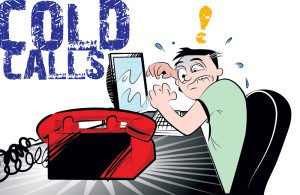 Go online and search for Title companies and Signing Services. You should try and make a habit of calling at least 5 new ones a day. If you repeat this practice every day and stay consistent, you will find this is very effective. All you have to do is ask who handles the scheduling of notaries for closings and ask how you can be added to their list.
If you stick to this, your phone will be blowing up with more signings than you can handle. Cold calling is not the easiest thing for some people, but the more you do it, the easier it gets. Once you get clients don't stop cold calling, as companies come and go.
3. Don't Turn Down the Smaller Jobs if You're Available
This is so true for the services Signing Signing offers, as we schedule more than just real estate signings. Some of these might include Structured Settlements, or simple few page signings. Now, most of these don't pay as much as real estate closings, but when you break down the time and cost to do the signing, you're making the same, if not more.
And don't forget, individuals need notaries, too.
The big part of this is these files are typically harder to schedule.
So when a notary is found that is willing to cover these signings, I guarantee you, the notary's name is now in that scheduler's memory. Who do you think the scheduler is going to call when more signings come up in that area? If you really want to do this on a Full-Time basis, don't limit yourself, you have to diversify your work to make more money as a mobile notary.
2. Become a Certified Signing Agent
The National Notary Association (NNA) is America's top source for notary supplies, educational material and Signing Agent certifications. Their certifications include online training and exams, making it a breeze to make more money as a mobile notary.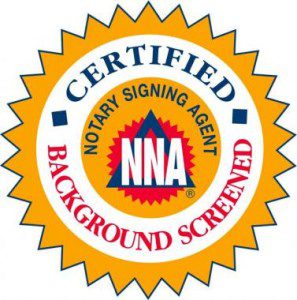 This is number #2 mainly because this is going to be a standard to perform Real Estate closings. A lot of Lenders and Title companies are making it a requirement that the notary going out must be a Certified Signing Agent, have a back ground check, and have E&O of at least 25k. They are doing this because in most states to become a notary is as simple as going online, taking a short course and paying a fee and you're a notary.
Problem is then these notaries are being asked to perform signings where they are expected to have some knowledge on the items they are notarizing. What happens then is because the notary is not familiar with the documents and the deal falls through or it doesn't fund because of mistakes.
Getting certified has its advantages as well.
Most sites that Title, Lenders, and Signing Services use have an icon or indicator that a notary is a CSA. When they are looking for someone new, who do you think they are going to call first? Also, when you're certified you're typically put at the top of the list of notaries on that site. Another plus to this is the instant credibility you give to your name as a CSA. This allows you to market yourself in such a manner that presents you as an experienced and educated notary. Getting certified is only going to benefit and further your career as a Mobile Notary.
1. Answering Your Phone
This is #1 for a reason. That is that most of your work is going to be received by phone calls. Some work gets accepted by email, but, the majority is still scheduled by phone. When a person is scheduling they typically have more than one. So they have to get the file they are on scheduled.
Schedulers typically call their go-to.
When those people are not available they move down the list. They keep calling different notaries until they have it scheduled. So if you're letting all of your calls go to voicemail, chances are you're going to miss out on work. Even if you're planning on calling them back, by the time you do, they might have it scheduled. Even when you're completely booked, try and answer your phone because at least that way that scheduler knows they can call you anytime for an assignment. Additionally they might ask what your availability is and this gives them an option. So if you pick up your phone on a regular basis, chances are those calls are going to keep coming in and you will make more money as a mobile notary.
Hopefully this has helped some to build their career and make more money as a Mobile Notary.
Get Any Document Notarized Right Now! Let's Start!
Go with the Industry Leaders for over 15 years. Mobile Notaries, Online, Remote, Sunshine Gets the Job Done Right…